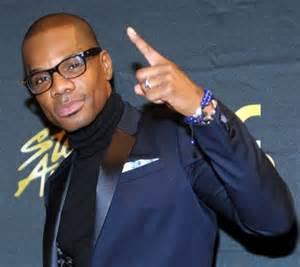 "I've gone through the fire and I've been through the flood. I've been broken into pieces, seen lightning flashing from above. But through it all, I remember that He loves me and He cares and He'll never put more on me than I can bear."
For nearly two decades now, Kirk Franklin has been a multi-platinum-selling purveyor of majestic fusions of gospel and contemporary music, and a mirror of Christian humanity boldly reflecting what one faith walking man can accomplish when he focuses on God and utilizes the gifts He gives. Franklin is a pioneer in gap-bridging musicianship, uniting audiences across gospel, hip hop, pop and R&B. His irresistible rhythms and rhapsodies have resulted in albums that consistently top both Billboard's Gospel and Christian charts, as well as ascend triumphantly into the Top 10 of the R&B/Hip Hop chart. His unprecedented penetration into the mainstream has fortified him to also become a New York Times bestseller author for The Blueprint: A Plan for Living Above Life's Storms (Gotham/Penguin). Franklin is also the host and executive producer of the gospel talent show "Sunday Best," the highest-rated gospel program in BET network history now heading into its fourth season. To date, the musical trendsetter has garnered nine GRAMMY® Awards; an American Music Award; 39 Stellar Awards (gospel); 16 Dove Awards (CCM); eight NAACP Image Awards; two BET Music Awards, a Soul Train Award and numerous others.
And yet, with all of his success and acclaim – his overflow of awards and accolades – Kirk Franklin remains, at heart, a man who comes from shaky circumstances that could have paralyzed his spiritual growth within his humble familial beginnings. He is never far from that frightened and forlorn young man who didn't always know which way to turn, which is what makes Franklin one of the most relatable and respected messengers in his field.